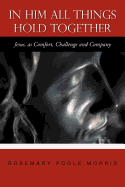 Indian Hills, CO (PRWEB) October 05, 2012
Five years ago, frustrated in trying to bring her writing to fruition,
author Rosemary Poole Morris
decided to hand her skills and hopes to God, and agreed to follow God's lead. It was this "Jesus Project," as she calls it, that led to her new book, "In Him All Things Hold Together: Jesus, as Comfort, Challenge and Company." (published by
AuthorHouse
).
Morris brings new perspectives on matters of faith - and on dealing with Scripture - to light. "In Him All Things Hold Together" contains prose, accessible poetry and some drawings. The poetry within her book often uses regular rhyme and rhythm, and, while often serious, is sometimes playful and light-hearted.
"Luke 6:46"
"You call me 'Lord, Lord,' day by day, Yet why don't you do as I say?" This world would not be near so grim If his people really followed him. But following Christ, it has been said, Is hard, so we worship him instead
"In Him All Things Hold Together" is aimed at helping people (lay and clergy) to think more deeply about who Jesus was and is, what he was about, and what following him might mean. Early chapters focus on what Jesus started with (the Hebrew scriptures, and God), and then trace his life-journey, right through to his resurrection. Succeeding chapters then reflect on what happened both then and over the next 2000 years, including "the good, the bad, and the ugly"–and the beautiful–of contemporary Christianity.
Read more